Some of our greatest historical and artistic treasures we place in museums; others, we take for walks.
-Roger Caras
Walking a dog seems like a routine activity but a good walk always starts with preparation and the right equipment. As an experienced professional dog walker I have found some of the best gear, tools and supplies to have from the beginning to set you up for successful walking.
Poop Bags

Picking up dog poop: it's a stinky, thankless job, but we all gotta do it. But there are so many bags to choose from! How do you pick? What's the right choice? Fortunately for you, I have tried 20 different brands over the years and I keep going back to the same one. I prefer an earth friendly bag, very large and has a scent. My go to is Greener Walker Poop Bags.
Leashes, Collars and Harnesses
Leather Leashes
The collar and leash you choose for your dog is one of the most critical decisions you make as a pet parent. I very rarely ever use anything other than a leather leash mainly because they are;
Not as rough on the hands
Stronger than nylon leashes
Have better grip
Less likely to wear out and will last through the life stages of your pup\
Check out my post about why leather leashes are better than nylon.
I highly recommend checking out the Leatherberg it has never disappointed me.
Slip Leads
For bigger breed or breeds that slip collars easily 6 months or older I recommend having a slip lead on hand mainly because it gives you a little more control and it is great for training purposes. I have a couple different brands of slip leads but the one I use most frequently is the Mendota– has a stopper, waterproof, durable multi-filament polypropylene solid core roping, and it features all brass hardware and made in the USA. (As always do your research and speak with a trainer on how to properly use these!)
Slip leads are great for;
Decreasing the chances of a dog slipping out of their lead
Easy to put on and take off
Decreasing dogs pulling if used correctly
Safer alternative to choke collars
Harnesses
Whether you use a harness or a regular flat collar will depend on the type of dog you have- do your research and test a couple different collars and harnesses out! If you are starting with a harness I recommend a Sporn harness. I have been using Sporn dog harnesses forever.

The reason I like these;
Dogs windpipe are not impacted
Decreases leash pulling
Sporn has a lifetime guarantee
Easy to attach and durable
Martingale Collar
I highly recommend a martingale collar- same concept as a slip lead but in collar form. My go to is the Country Brook Petz: super affordable, reliable and many colors to choose from.
Martingales are great for:
More control over your
Great for training purposes
Escape proof
 Protection: Sabre Red Spray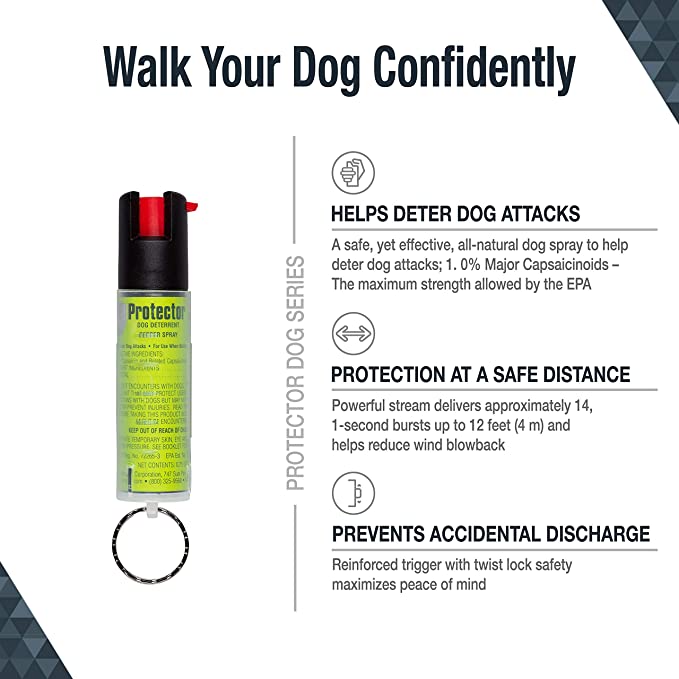 A safe, yet effective, all-natural dog spray to help deter dog attacks. Helps prevent injuries to you, your pet and the attacking dog. Sabre Dog Spray is used by police departments worldwide. Officers on six continents and in more than 40 countries carry Sabre pepper spray. I hooked this to a quick release key chain and its attached to my pack.
Treats
There are so many dog treats out there, it's hard to know where to spend your money. Not only are they expensive but you want to make sure your dog will like them, they have good ingredients, and won't make your dog sick. I have client pups in all different life stages, some with allergies, and some who are very picky. I have tried a variety of treats and I have found a treat that not one dog has yet denied! The best part? It only has one ingredient!! Stewart Dried Liver Treats are the best and extremely stinky- its literally doggy crack! I buy in bulk and put in sandwich baggies for quick grabs.
For more information on treats check out my post about Single Ingredient Dog Treats.
Bag/Fanny Pack
When you head out for a walk what do you do with the poop bags? The treats? Your keys? Stuff them into your pockets or purse? Wear a jacket just so you have extra pockets? What about your gear – your wallet and phone? Do you risk leaving them in the car or do you add them to your already over stuffed pockets? Sounds unorganized and inefficient. Don't fret! I have used all kinds of bags, fanny packs, bumbags, cross body bags and have even tried to sew my own (bad idea)! After trying a number of bags at the expense of my wallet- I have found a bag I absolutely LOVE. The Furry Buddy, Hello pockets! Its meant for hands free walking (which I never do) but it holds my phone, keys, treats, hand sanitizer, Sabre Spray, and cash.
For more bag options check out my post on The 5 Best Dog Walking Packs and Bags
Hand Sanitizer
Dirty hands really do poison thousands of people…or in our case: Dogs. I am a hand sanitizer fanatic! I like to try every kind, every smell and sometimes my hands hate me for it. I have finally found a product that does not dry out my hands, smells good, and its a spray- NO GOO! Dr. Bronners Organic Lavender Hand Sanitizer is my go to sanitizer.  These made great gifts for my other fellow walkers this past Christmas too!
First Aid Kit
You never know what will happen and it's good to be prepared! Pet first aid kits provide you all the bandages, tools, and materials you need to ensure you can treat your pet on the spot in case of accident, injury, or illness. I recently purchased the Rayco International Ltd for all my walkers to put in their cars and this little thing has everything. Its not too bulky either.