You're the Fanny Pack of Life. You're Cool but in your Own Way.
Finding the right bag or pack for walking your dog can be overwhelming. With all the running, hiking, fanny packs and cross body bags out there it's hard to know what to spend your money on. The good news? I have spent excessive amounts of money to find the right pack, you're welcome. Full disclosure, I have not found the perfect pack yet but I have found a couple that do the job and I am happy with. My ideal pack may not be your ideal pack but I am sure some of the key features are similar;
(I did not mention a water bottle holder because I personally did not want/need one)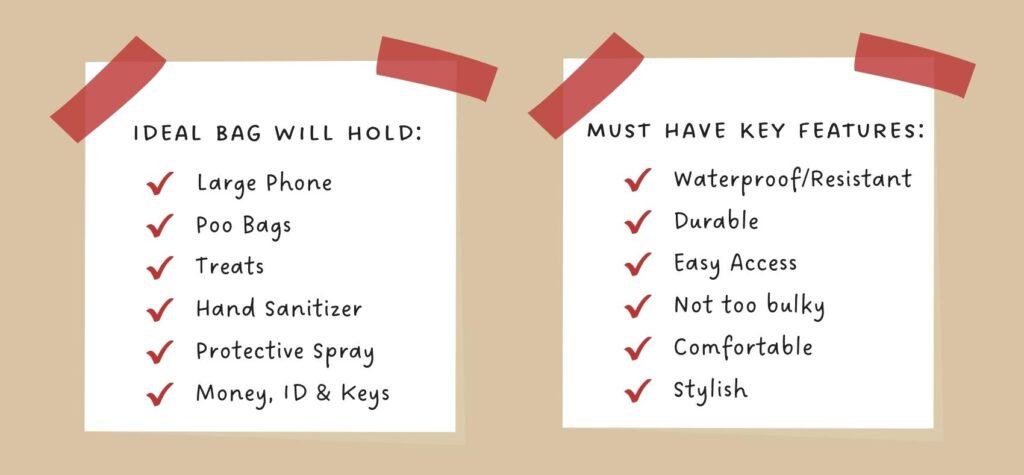 I've listed my favorite bag for each category:
1. Sling Bag
I chose the Maleden cross body bag as my first pick because I use it 
the most and during all types of weather (fits nicely over a coat). Through my venture of finding the right pack I always tend to go back to this one because it's extremely versatile.  Full transparency, I am not the biggest fanny pack fan BUT I do use them because they are more accessible in my opinion.
Why I love this:
Water resistant
Holds everything & lots of pockets (my phone fits, woo!)
It is small and sits comfortably
Lightweight
Has a d-ring
Affordable
I like the colors
Water will fit
You can wear it across the chest (I do not wear it this way it felt funny)
Mostly Durable (been using it on and off for about 3.5 years & it has a small tear from me shutting it in my car door and pulling..fail)
When you bend over (if you have it tight enough) it doesn't move all around or fall forward
Why it could be better:
Not fully waterproof
Phone is not as accessible as I would like
No designated pocket for treats
What I did to make it better:
I added a quick release key chain to the pocket that sits on your hip and attached my saber spray for easy access
I added a grommet to the bottom right side of the pack to make a poo bag dispenser. If you do not know how to install a grommet?– click here it is very easy! ( I add these babies to everything; I literally have a poo bag dispenser in most of my coat pockets…)
I added the a handy dandy poop bag holder to the strap near the bottom
I put treats in a small baggie in the hip pocket for easier access
I put my business cards and rack cards in a Ziplock just in case it rained hard
2. Fanny Pack/Waist Pack
The Furry Buddy is my second go to, especially in the summer/warmer months.
Once we start removing layers we consequently lose pockets, sad face. This is probably the closest thing to an actual pack made for dog walking but it has some flaws. It is aimed for hands free walking– I rarely walk hands free but it could be an added bonus if you do. All in all, its a solid pack and I still use it pretty frequently.
Why I love it:
Has 2 heavy duty d-rings
Has reflective material- good for walking at night
Most of the bag is waterproof
I like the designated treat pouch
Durable material
Easy access to everything
Can carry a water bottle for long walks
Why it could be better:
My phone barely fits in the designated spot
Little pricey
It is a bit bulky & makes it hard to bend over
Once you load it with everything it tends to sag
Not a fan of keys dangling- kind of drives me crazy
Bungee leashes are not my favorite
What I did to make it better:
I added the a poop bag holder to one of the d-rings
I tend to wear it backwards so it does not get in the way when walking or bending over
3. Small Backpack
If a backpack is your preferred choice of bags then I recommend the OneTrail Mini Me 10 Liter Daypack. I actually bought this for riding my bike around town but it eventually turned into a dog walking pack when I left my Maleden at a clients house (oops). This is a great smaller pack but I like the look of the sling bag better, personally.
Why I love it:
Extremely light weight
Love the back pocket for my phone
Affordable
Water bottle Slots
Water resistant
Machine washable
Plenty of space for carrying pens, business cards, and rack cards
Why it could be better:
The pack is a bit flat/saggy if you do not have a lot of things in it
Zippers could be made of stronger material
Chest buckle can be annoying
What I did to make it better: (I did not do anything to this pack but if I used it more frequently for dog walking specifically I would have done;)
Add a grommet for dispensing poo bags
Add a poop bag holder to the strap near the bottom
4. Shoulder Strap/ Cross Body Bag
I will start off by saying I do not own one of these but one of my walkers does so my review is based on my first impression and her reviews. The concept of the DOOG bag was good but I am not a fan of shoulder strap bags because of the mobility of our job; bending over to pick up poo, greet pups, belly rubs, cleaning liter boxes, etc. (I never remove my pack because I will leave it somewhere)
Shoulder strap bags tend to fall forward or slide around and nothing is worse than going to greet a dog and have your bag fall forward and smacking the pup in the face. Safe to say I have a bias against this type of bag but for the people who prefer these I have reviewed the bag itself!
Why I love it:
It's cute & has fun colors
Poo Bag Dispenser
Phone fits
Partially Waterproof
Water bottle spot
Space for carrying branded materials
Why it could be better:
Poo Bag Dispenser is designed for DOOG brand bags they come in like a tissue pack? ( you can squeeze other brands but it is tight)
Pricey
Flap closure makes it less accessible
What I did to make it better: (what my walker did)
Used carabiners and hooked it to a belt for a waist pack (genius!)
Could wear it across your body for more stability
5. Treat Pouches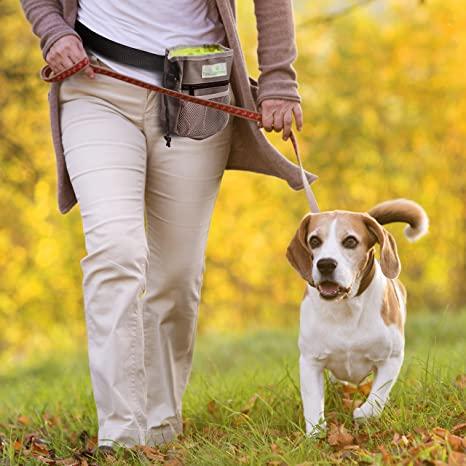 This is probably the most used and advertised type of bag for dog walking. When I first started walking dogs the Paw Lisfestyles Pouch was my go to bag but down the road it became more of training only bag. I like to use this when I am in the backyard with my pup or a clients dog when working on commands. Now that I tend to carry more stuff with me this little pack is lacking the key features I needed.
Why I love it:
Easy access to treats
-Has a poo bag dispenser
-Not terribly big
-Easy to clean
-2 d-rings
-Affordable
-Phone slips into the front mesh part
-3 different ways to wear it
Why it could be better:
Limited storage
Do not like the placement of the poo bag dispenser
Becomes heavy once you hook keys, protector spray, load with treats and phone
Material could be more durable
What I did to make it better:
Looking for a small treat only pouch? Check out the Pet Safe Treat Pouch
*Bonus: Travel Bag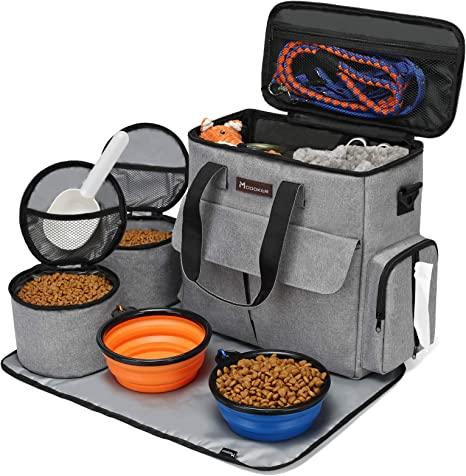 Although this is not a pack for walking your pup it is a must have for traveling! When I visit my parents over the holidays the Modoker Dog Travel Bag makes packing everything so convenient; it holds a lot of food, dishwasher safe bowls, and fits on a suitcase nicely. Bonus: They have added a bunch of great colors!
**The Poop Bag Holder I keep mentioning: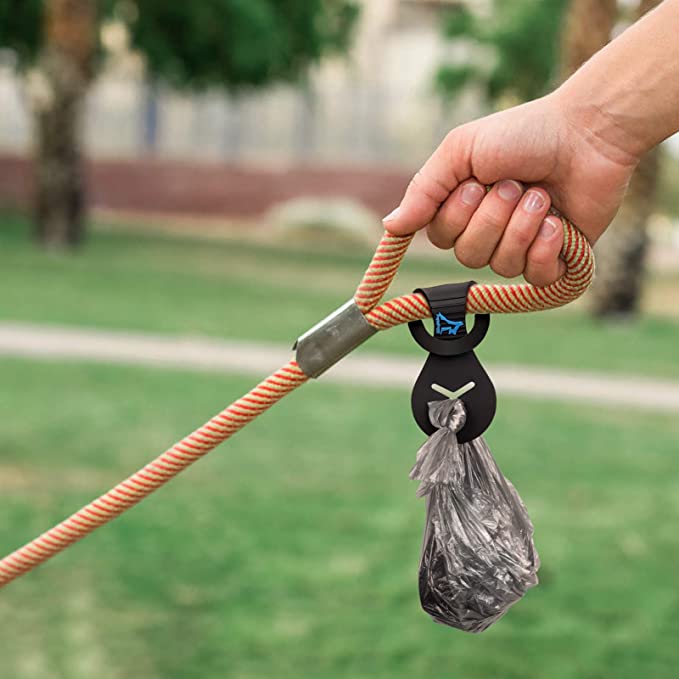 Happy Walking!