Is your pup counter surfing? digging through the trash? chewing your shoes? running around the house like a two year old on a sugar high? No? Just mine?
It's possible your dog is bored. Dog boredom is a lack of mental stimulation and exercise; it can lead to inappropriate chewing, excessive barking, and digging. While training can help with some of these problems, there are several other things you can do to curb your dog's boredom.
Daily Walking
Exercise and stimulation cultivates your dog's personality and wards off stress. A good rule of thumb is a 30-45 minute walk daily to curb your pups energy. Don't have time? Consider hiring a professional dog walker to come do a midday walk. Daily walk getting mundane? Change your route! Allowing your dog to smell multiple surroundings adds mental stimulation. For an efficient walk check out these awesome products.
Simple Obedience Training
Most hyperactive dogs love having a job and all it takes is ten minutes to create one and stimulate your pups brain. Practicing simple commands (sit, stay, down, come, place, etc) just for ten minutes can drain the brain. Once they have mastered these you can move onto impulse control and recall; this takes a significant amount mental energy to perform. These all can be taught using positive reinforcement (ie: high quality treats or belly rubs) or you can introduce clicker training which is a great tool as well!
Interactive Games
One of the most versatile games you can teach your dog is playing hide and seek with treats. The stinkier the treat the better, I use Stewart Dried Liver Pro Treat with my Shepherd and he loves it! Start off with a treat in one hand and have your pup "guess" which hand. Once they master that move on to hiding treats around the house then releasing your pup to find them.
There are a variety of interactive "hide and seek" nose game toys that you can buy and between my dogs and clients I have found some of my favorites;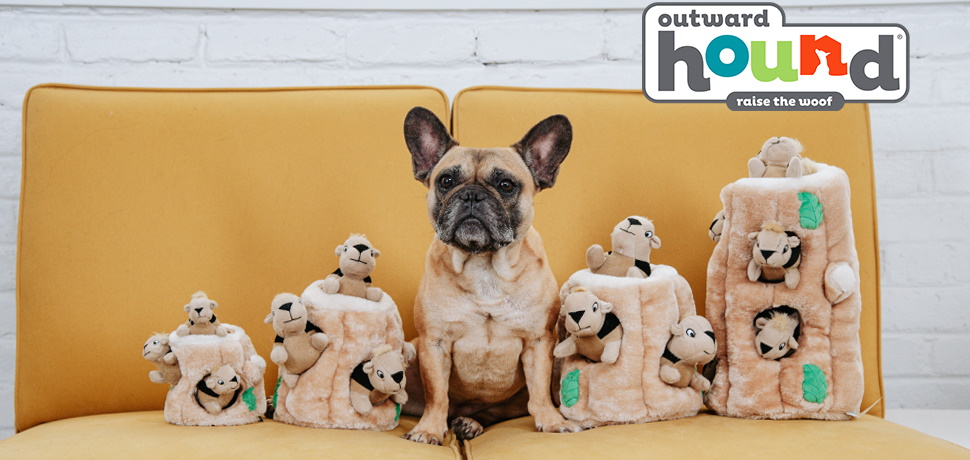 I have a client who adores these little squirrels. I stuff the trunk and she starts digging immediately to find them all. The pup is always carrying a squirrel.
This little ball of hidden treats is a staple at my house. My Shepard is a big chewer and has yet to break it- that is saying a lot. I put dried liver or Zuke's in and it keeps my pup busy for an hour a so. 
Added bonus he likes to carry the ball around even without treats in it, I find him sleeping with it often.
This toy is like crack for most of my bigger breed clients. The interior tennis ball and loud squeak are like a pups dream. Most of them are determined to get the tennis ball out or destroy the squeaker both equally time consuming.
Fetch & Catch
Fetch allows dogs to burn off a lot of pent up energy and can strengthen the level of respect that your dog has with you. When your dog has a positive experience with you, they will be far more likely to obey commands. Fetch is great because you can play at any time; if you're outside and you have a few minutes to spare, you can easily get a game started. Most of my clients require some type of fetch when I am taking care of their dog and I have come across some awesome products that their dogs love.
I personally love the ChuckIt! I am terrible at throwing and my Shepherd is less than thrilled with my skills. This little gadget makes me a pro at throwing! I highly recommend buying the rubber version of the ball it will last a lot longer/harder to destroy.
Have a dog who loves squeakers, check out the Squeaker ChuckIt!
How about a dog who gets zoomies when its dark out? My pup LOVES the Glow in The Dark ChuckIt!
Agility
If daily walks and simple obedience are not enough for your pup then I highly recommend trying out agility courses. Most dogs will light up when doing agility because it brings out their natural instincts of chasing and hunting prey in the wild (agility mimics jumping over fallen logs, climbing up steep slopes, and squeezing through bushes and vegetation). Most importantly, agility creates a bond between you and your pup; your dog cannot complete a course without your direction. This reliability helps reinforce basic obedience commands, improves dog/owner communication, and ultimately helps to improve your dog's behavior outside of the agility course. Interested in adding agility to your pups routine then check out the Pawhut Dog Obstacle Agility Training Kit.

Play Date/Dog Day Care
Setting up play dates for your pup or sending them off to dog day care is key to socializing your dog and stimulating mental energy. Early socialization helps puppies grow up to be amiable and cooperative around other dogs and people. While interacting and bonding with you and your family is important, your pup needs time to be a pack animal; to find their place within their circle of friends, and to learn more about being a dog as well as a pet. Added bonus, most dogs will come home exhausted after a play date or day care trip.
Something to Chew
This is a no brainer- most dogs love to chew. However, not only is dog chewing good for keeping your dog occupied; there are numerous health benefits!
Cleaner Teeth
Better Smelling Breath
Healthier Gums
Aids in Regular Digestion (regular & solid stool)
With this said, choosing the right "bone" is key. I have found over the years from researching and experience the following is one of my favorites.
*Full disclosure- I stay away from all rawhide products